my Touch 3G

Ads Pic from Official Website


my Touch 3G

Ads with 3 Celebrity : Whoopi Goldberg,Phil Jackson and Jessie James.
Whoopi Goldberg : "Here is the truth,this
my Touch
is my touch" Whoopi's
myTouch 3G
is all about gaming (she's big into vampire games, who knew?), looking for shoes and finding the best hot dogs in town- no matter what town she's in.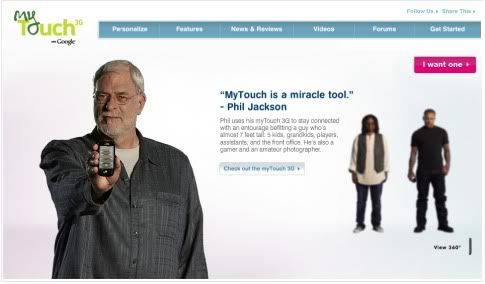 Phil Jackson "

My touch

is a miracle tool" Phil uses his myTouch 3G to stay connected with an entourage befitting a guy who's almost 7 feet tall: 5 kids, grandkids, players, assistants and the front office. He's also a gamer and an amateur pho
tographer.
Jessi James "I don't like the way look without tattoos and i don't like the way my phone would look without some kind of artwork on it" You can't expect a guy who builds custom bikes for a living to have a stock phone.

Related Links
my Touch 3G Commercial Video
$100 Off For my Touch 3G With Oprah Promo Code
Android 1.6 (Donut) SDK released