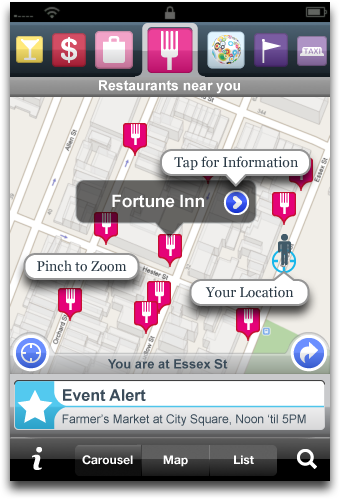 Sherpa

: The New

Application

In

T Mobile My Touch 3G

Sherpa

is very useful application in latest Android phone from

T-Mobile

.

Sherpa

will be the unique application for

Tmobile my touch 3G

(

HTC mytouch 3g

) users. This amazing application can makes local discovery,find your favorite places and recommend new one s that you might like ex. cafes, restaurants, bars, bank, coffee shops and everyplace do you want,depening upon your location.



Wherever you are, you can open this application and find whatever you want based on your location. Easy way to use Sherpa, use your thumbs-up or thumbs-down on screen to a individual location or stores.So, if you don't like some place all you have to do is give it a thumbs-down and Sherpa would not make an effort to choose any places.And on next searches Sherpa will further places where you don't like down to the list and move up things you like to the top.In addition Sherpa would list all of the similar place in the immediate area and can show a map with pinponts to obtains directions that you can scroll horizontally along the top of the screen to see it.

Sherpa developed by Geodelic with important learning engine that able to automiatically customize itself to the user's preferences and recommening user's favorite place call "GENIE" (Geodelic Engine for Interest Evaluation).Moreover,there are useful applications and widgets in T Mobile my touch 3G which selected and recommended by T Mobile.For example,the CNN widget allowed you to read the latest headlines,have alert feature that pop up with the latest buzz ,T-Mobile's movie widget allowed you to see movie and categorized information by release date, movie rating,etc., Sports Tap showed you the latest news of the professional leagues.